These many weeks the hunt for Professor Powell had occupied my thoughts and filled my waking moments. I who set out upon this dark and shudderingly terrifying adventure, full of all sorts of nightmarish fears and wild apprehensions, have now reached my journey's ruinous black end. The Professor Powell I knew at New College is a man greatly changed! So preoccupied has he become with the protection of his ever increasing mounds of glorious Ivory, that he has become remiss in his duties towards the Empire.
The West Africa Company (who commissioned his research) have received not a single consignment from the Nederhiwi Ivory Outpost . What is worse, he has left off wearing the starched shirts and linen suits indicative of his imperial standing amongst the natives, adopting the native garb with all the resolute enthusiasm of a degenerating heathen.
Why even now a ferocious tribe of head shrinking savages, intent upon collecting their share of the Ivory have joined him in dance-combat!. For two days now the drums of the Kon-Kon-Safwo-Redwoods have rung out savagely, and as a blood red sun sets shimmeringly on the horizon and the day draws to a close, I cannot help but to wonder what the outcome will be.
 "Have you had a bite to eat?" enquired Captain Dunrudy as he partook of tinned Sardines delicately mingled with fried Nederhiwi Red Herring. I could not help but to marvel at a man who having imbibed enough whisky rations to have inebriated an entire army, now sat contentedly chewing upon a plateful of pungent smelling fish served up for him by a voluptuous plum skinned Umbongoan maiden, who grimacing broadly offered me some native victuals.
From the jovial manner in which Captain Dunrudy chewed upon his food I assume it was most palatable for him. My English constitution I fear is not as robust, for I found the mere smell of the cooked victuals surprisingly repellent, and was forced to fall back upon the remainder of some Kitchener Dried Mule Jerky I had purchased several months ago at the Umbongo Nefertiri Outpost. I soon completed my spartan meal, washing it down with several Gin and Tonics, before wandering off in the direction of that eccentric structure to the left of the Ivory mounds which I'm told was the main headquarters of the outpost. 
"Umbwaaga na butu! Believe me!" Captain Dunrudy declared as he chewed his fish, washing it down with yet more whisky. "He's built a graveyard behind that lot, and what you'll find there scarce bares imagining! The natives say there's at least a dozen imperial administrators buried back there. Right alongside the half a dozen missionaries what thought they'd make civilised Christian Englishmen out of the Nederhiwi, well! They soon learned a thing or two!"
As I walked towards the towering structure from time to time I would glimpse out of the corner of my eye occasional glimmerings such as would suggest the swift, furtive movements of dark skinned savages. Not that I let that put me off my mission which was to acquire what insight I could as to the precise nature of Professor Powell's barbarous lunacy.
As I approached the wooden structure which alone seemed to tower over that corner of the compound, I was overcome by a sudden desire to mutter the Pater Noster under my breath, and I could not resist crossing myself several times as I entered into the soul-less dark interior of Professor Powell's home. A ponderous and weighty silence filled each oak panelled chamber, whose tables of sparkling cut-glass and crisp white linen, whose walnut cabinets full of intricately painted bone-china, silver plate and scrimshawed Ivory had been dusted and polished to perfection, t'was most disturbing.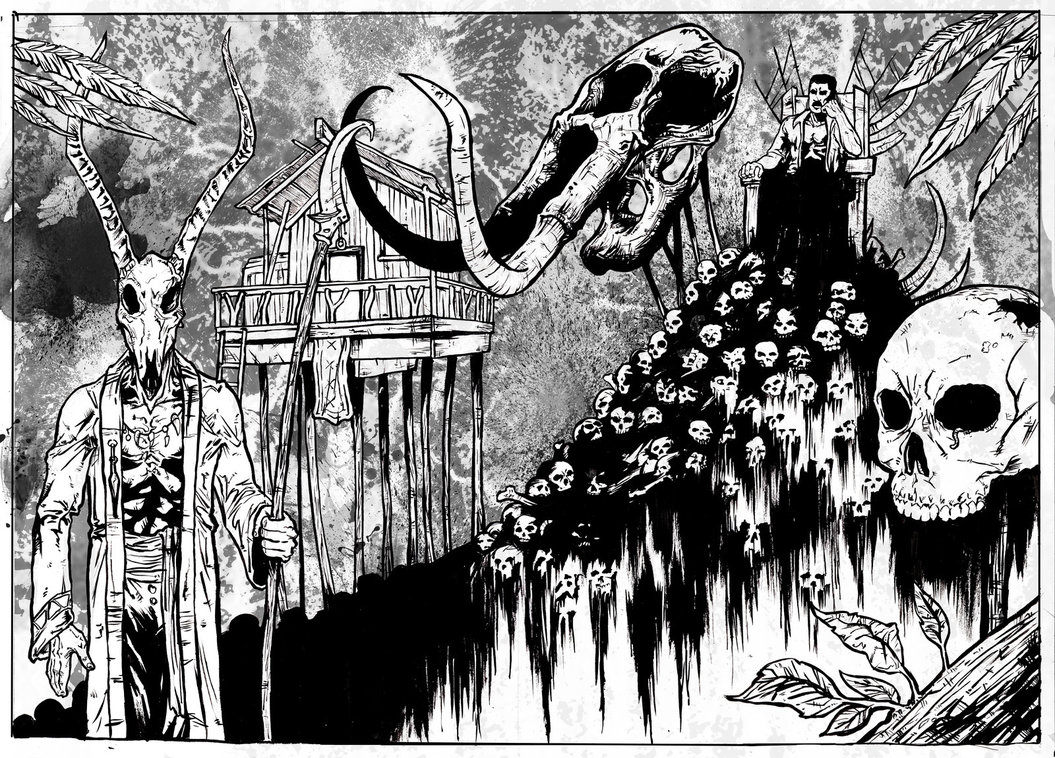 Travelling deeper into the cavernous interiors of Professors Powell's home I came upon a chamber whose earthen floor had been polished to such a high shine that one could almost see one's face in it. An ornately carved chair had been placed in the centre of this room and upon it sat a poor creature in a state of parlous anguish. Her matted hair was loose and lay dishevelled upon the shoulders of a tattered gown and it was impossible at first to discern whether she was of civilisation or merely a tribeswoman of the Wahiri Hiri.
There was an air of tainted purity about her , an aura of almost imperceptible light and as she raised her head from off her chest I saw that she bore a gold crucifix upon it. Could this be an English woman and a missionary?! T'was a terrible shock to perceive an English woman shackled and chained like a savage to a chair owned by the good professor (who had once partaken joyously of high church), and in a room festooned with grotesque Nederhiwi statues, which I took to be representations of the local deities. 
"What is this place?" I asked not wishing to hear what I guessed would be an answer most shocking to my Christian sensibilities.
"T'is the Twerking Chamber of Professor Powell!" she replied "A most barbarous and impious sight you are unlikely to see in any other imperial district! I have been imprisoned for some months merely for seeking to turn the Nederhiwi back from the wilderness of vicious corruption that, that devil (turned heathen!) has urged them to embrace! I have been chained up to the Throne of Ululations for exhorting them to be good Christians! Professor Powell proclaimed that I shall not leave here till I relinquish my faith and twerk!".
Raising a delicate and trembling milk white palm to her pallid face she tilted back her head and fell to laughing hysterically till she howled with anguished tears, finally she let loose such a stream of terrible invectives that it seemed as if she had succumbed to that impenetrable darkness some call Africa. But at last she recovered her composure and I, having stifled my horror and gathered my resolve, drew forth a Maxim Pistol and firing off several shots, freed the unfortunate lady from her chains."Praise God!" gasped she, her face contorted with joy,
"An Englishman has come! An Englishman has come!"